ABOUT THE OWNER

Marc Kruskol, President and Founder of MJK PUBLIC RELATIONS.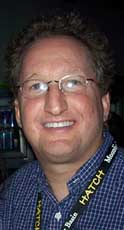 I have two decades of experience in the entertainment industry, beginning in the public relations department of Columbia/TriStar Pictures, where I worked on the publicity campaigns of over 75 films along side a "Who's Who" of entertainment personalities and corporate executives.

I then joined an independent public relations firm, eventually rising to the rank of Vice President, where I helped guide the campaigns of their roster of films, corporations, personalities and the HATCHfest audio-visual festival. I also participated in the awards campaigns for films including: Crash, Flags of Our Fathers, Dreamgirls, Bobby, Miss Potter, Memoirs of a Geisha, Rent, Amelie, Breaking And Entering, Iris, In The Bedroom and The Aviator, among others. Additional, I coordinated the PR efforts for a Direct-to-DVD production and distribution company.

In January of 2007, I formed MJK PUBLIC RELATIONS, representing filmmakers, , pro wrestlers and other professional athletes, business executives and experts in their fields, musicians (with regular, PAYING gigs AND music available for purchase at stores and / or iTunes).

Independent Films Represented At Festivals:

• Transatlantic Coffee-Dances with Films; LA's New Wave International Film Festival (Winner, Best Picture)
• Light of Mine-AFIFEST
• Virgin Alexander-Las Vegas Film Festival (Winner-Best Feature Film)
• Less-Dances with Films (Grand Jury Award, Honorable Mention, for Features)
• Vanishing of the Bees-Do Something Reel Festival
• Stags-Dances with Films
• Fired!-US Comedy Arts and SXSW
• Partner(s)-US Comedy Arts
• Last Stop For Paul-Various (45 wins)
• The Rat Thing-Dances with Films (winner)
• Rounds –Hollywood Film Festival
• My Bad Dad-Dances with Films
• The Princess of Mount Ledang (Malaysia's first entry for Academy
Awards® consideration) -Palm Springs International Film Festival
• Praying With Lior -San Francisco Jewish Film Festival (pro bono)

I've also been the set / unit publicist for the films, Baby on Board, Suspended Animation, Sex Tax and C.L.A.S.S.. Additionally, I also represented the filmmakers of My Date with Drew, (winner of the US Comedy Festival), for the film's theatrical run, Annabelle Gurwitch and her film, Fired! for its theatrical run and Showtime Network debut and Last Stop for Paul for its Los Angeles opening.